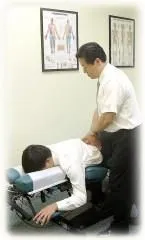 At Central Chiropractic Clinic you can learn how simple, safe and comfortable chiropractic treatment is and how it can improve your quality of life.
Pain relief and pain prevention are two of the reasons that chiropractic has become so popular around the world. We offer two types of treatment;
1. Acute and Chronic Symptom Treatment
We fully understand that getting rid of the pain is the number one concern for the patients here. Whether they began from an automobile accident, falling off a ladder, or something you have had for a very long time, we want to be your go-to resource. This is where many people begin at our clinic, so that's where we start!
2. Maintenance Spinal Care / Wellness Care
Regular care over a lifetime is prevention. Spinal misalignments can cause degeneration and dysfunction without ever giving you an alarm of pain. With regular care you are afforded the best assurance possible in keeping your spinal column fit and free of misalignment. In doing so you increase overall physical, mental, and emotional performance and feel more connected in general.
It's Your Choice.
Regardless of your health goals, please understand that we see ourselves as mere servants. It's your body, your health and you are in charge! Our job is to offer you the finest chiropractic care possible, and it's up to you to decide how much of it you want.